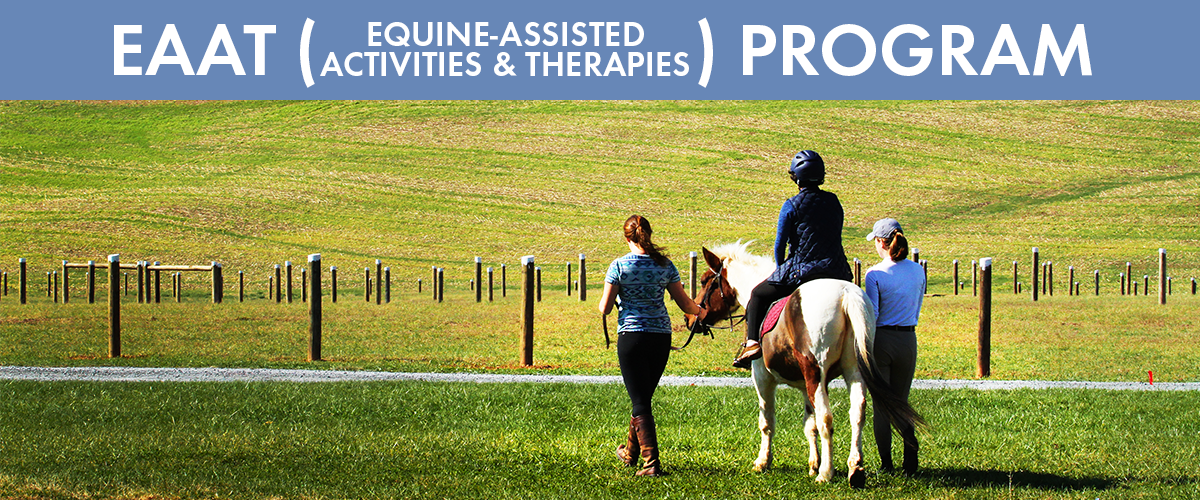 ---
ABOUT
The mission of the Equine-Assisted Activities & Therapies (EAAT) Program at Madison Fields is to improve our participant's quality of life by fostering a nurturing and healing relationship with our therapy horses. We we use the therapeutic and healing capacity of our gentle horses to improve the well-being of people of all ages with a variety of needs and diagnosis including autism, cerebral palsy, learning disabilities, and tramautic brain injury. We provide both mounted and un-mounted opportunities within our program.
Therapeutic Recreational Riding consists of mounted lessons that teach students basic horsemanship skills under the guidance of a certified riding instructor. The primary focus is to meet recreational and leisure goals in a relaxed atmosphere of support and socialization.
Equine Assisted Learning (EAL) is an unmounted experiential learning approach that promotes the development of life skills for educational, professional and personal goals through equine-assisted activities.
We are a member of the Professional Association of Therapeutic Horsemandship International group, and comply with P.A.T.H. International safety standards. Our program is staffed by credentialed professionals and trained volunteers dedicated to providing the finest in safe, fun, and effective sessions. We offer four 8-week sessions throughout the year and one 4-week summer session. Openings are filled on a first-come, first-serve basis.
---
2019 SESSION DATES & DEADLINES

---
HOW TO ENROLL

Contact our Equestrian Manager for openings.
Schedule an optional free 30-minute site visit.
Download and review the Madison Fields EAAT Program Manual.
Download and complete the Madison Fields EAAT Program Application.
Contact our Equestrian Manager to schedule a preliminary evaluation lesson.
---
CONTACT OUR EQUESTRIAN MANAGER